Auction Search
Register a bid
Register your bid online and we will place your bid for you in the auction.
News and Reviews
October 1st Fine Art Sale Report
18 October 2010
A wide variety of items were entered into October's Fine Art Sale and, as always, both viewing and sale days were well attended.
During the early part of the sale an 18c gilt bronze sundial register realised £380 and a late 19c French Ormolu figural mantel clock sold for £650. Two items in need of extensive restoration sold well; lot 38, a late 19c day longcase clock by Robert Honey of London reached £1,450 and lot 45, a late 19c Geneva music box The Victoria made £920.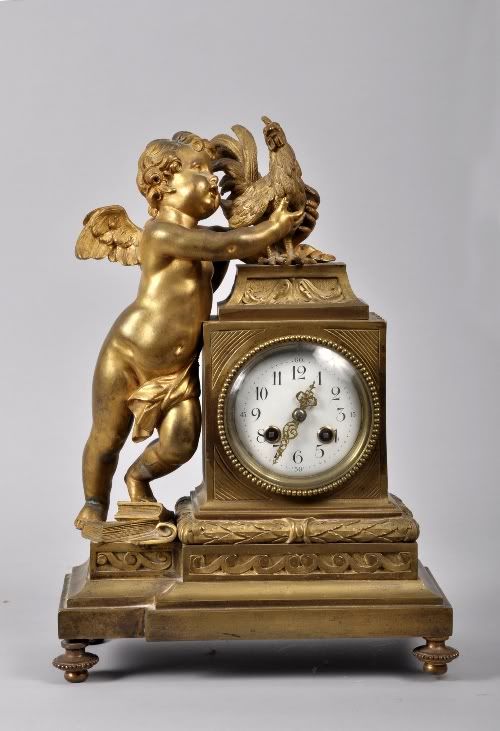 A late 19c French Ormolu figural mantel clock sold for £650
Items in the treen section drew great interest; in particular, there was spirited demand for a pair of Regency satinwood tea caddies of oval form which realised £1,150 and an 18c/19c Russian calendar icon which realised £2,500. There was also surprising demand for a pair of 19c marble profile plagues which sold for £580. Among the Chinese ivories, lot 129, a carved ivory figure of a turtle dragon, made £1,550.
There was strong demand in the small silver section. Lot 179, a Golden Jubilee commemorative vest box reached the grand sum of £1,280 - a true reflection of demand for the very best of collectables.
Lot 179 - A Golden Jubilee commemorative vest box sold for £1,280
In the Oriental ceramics, a 17c Chinese baluster famille verte vase, very a/f, reached £950 and a Meiji period ornate baluster vase reached £450.
The painting section reflected a very steady demand experienced during the last few months. Lot 287, Henry J Kinnaird, View Near Salisbury, realised £1,200 and by the same artist, lot 288, The Wintery Lane, Sussex reached £500.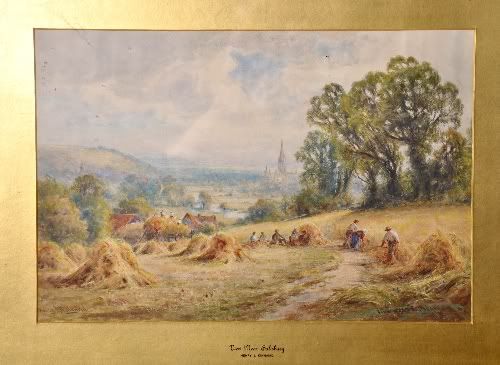 Lot 287, Henry J Kinnaird, View Near Salisbury
Demand for oak items in the furniture section slightly improved with a late 17c oak court cupboard realising £1,450 and a 17c oak armchair reaching £1,100.
Trade for 19c entries continues to be steady unless particular articles become available. Trade in this area has generally regressed a good 25% from that of two years ago. Having said that, lot 345, an early 19c rosewood games table realised £1,650 and lot 372, a mid 19c burrwood and marquetry library table with reputed provenance made £2,600.
Good attendance at the sale was reflected in spirited bidding throughout with the best and most interesting items in all departments selling well. Mid range items sold at the lower estimates.
Please click here for October 1st Fine Art Sale Results