Auction Search
Register a bid
Register your bid online and we will place your bid for you in the auction.
News and Reviews
July 23rd Fine Art sale report
23 July 2010
Tring Market Auctions' July Fine Art & Antique Auction was another great success; the highlight was arguably the sale of two Blue John stone vases, as featured in our pre sale report, which realised an excellent price of £11,200. Two separate Blue John stone vases reached figures of £1,200 and £2,100.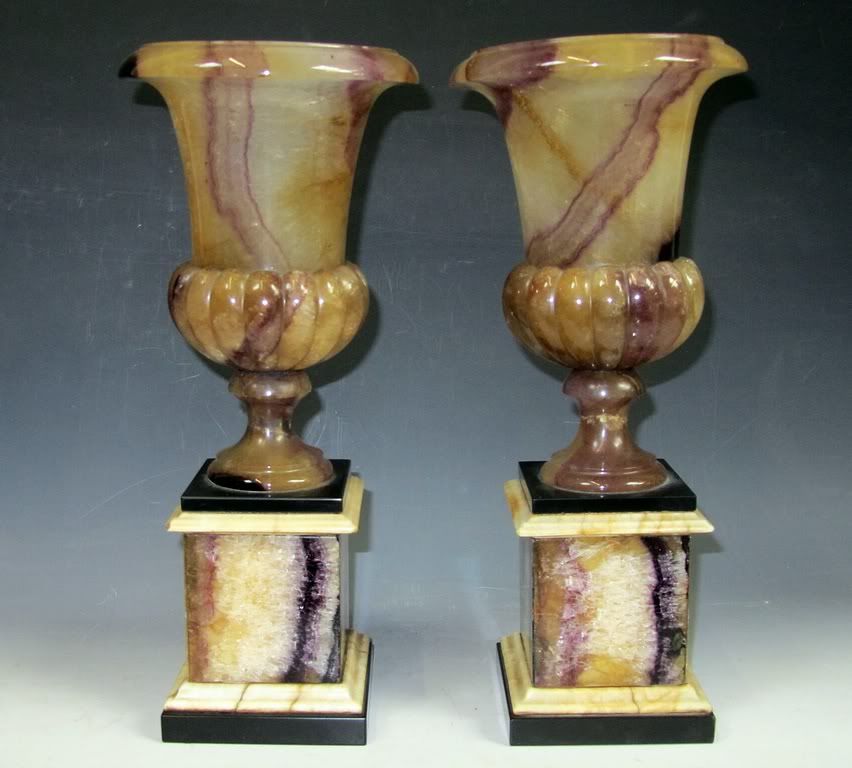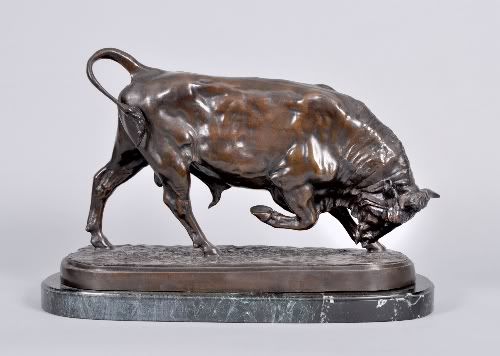 Left: Blue John stone vases sold for £11,200. Right: Charging Bull sold for £1,300
In the metalware section, a bronze model of a charging bull made £1,300.
The selection of clocks drew attention with a late 19th century French mantel clock in tortoiseshell and boullework case with cast gilt mounts, feet and side frets reaching £900. Other items of interest in this section included a late 19th century English dial clock which made £820 and an early 19th century English trunk dial which sold for £1,020.
Early 19th century trunk dial sold for £1,020
Among the array of collectable ceramics, items in the oriental section included a 19th century Chinese bowl - £460, a Chinese Imari charger - £580, a pair of 19th century Chinese blue and white moon flasks - £410 and a Ming Dynasty blue and white bowl - £410.
A Chinese Imari charger sold for £580
The furniture section saw good prices throughout. Most notably an early 19th century rosewood chiffoniere made £2,000, a mid-Victorial walnut marquetry credenza sold for £1,950, an 18th century figured walnut chest made £1,900, a pair of Globe Wernicke mahogany four tier bookcases reached £720 and an early 19th century mahogany compactum dining room cabinet sold for £850.
An 18th century figured walnut chest made £1,900
Other highlights included an A.J. Strutt oil on canvas "A Moonlit Monastry" which made £2,000, an 18th century platinum diamond set ring proved popular and sold for £1,800, a late Georgian coffee pot sold for £580 and a pair of George III meat skewers dated 1762 reached £330.
Left: A.J. Strutt "A Moonlit Monastry sold for £2,000 Right: An 18th century platinum diamond set ring sold for £1,800
Please click here for July 23rd Fine Art Sale Results
The next Fine Art Sale will be held on the 1st October 2010. All entries and enquiries welcome.