Auction Search
Register a bid
Register your bid online and we will place your bid for you in the auction.
News and Reviews
June 20th Century Decorative Art, Collectibles and Design Sale.
26 June 2010
Our 20th Century Decorative Art, Collectibles & Design Sale held in June offered over 600 lots - the majority coming from private collectors and estate clearance work.
Items in the furniture section ranged from the Arts & Crafts period through to Post War Modern Design. Notable sales were a Gustav Stickley Oak Chalet Table which sold for a hammer price of £780 despite being modernised over the years and a nest of 1950s Mouseman tables which sold for £680.
Gustav Stickley Oak Chalet sold for £780
The market for Post-War Danish furniture was strong with a Gudme Mobelfabrik Rosewood circular dining table and six chairs realising £650, a 1970's Danish Rosewood Sideboard reaching £1000, and a late entry set of six Danish rosewood chairs reaching £1020 saved by our clearance team from being thrown on a bonfire!
The picture section produced great results - most notably a painting by William Selwyn "The Menai suspension Bridge"- £1600; an oil on board by William Hoggatt "Autumn Ballaglass"- £2100; Janet Ledger "A Town Scene With Viaduct"- £520; and a Maurice Picaud Plaque - £1350.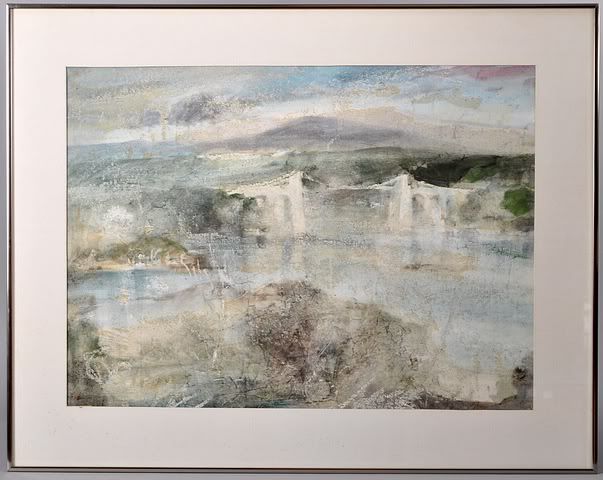 Left: William Selwyn "The Menai Suspension Bridge" Right: William Hoggatt "Autumn Ballaglass"
The Glass & Ceramics Section once again showed that rarity and quality really do count. Results included a Tiffany Favrile vase - £1250, a Daum Nancy Cameo glass vase - £2100, a Pino Signoretto corroso sculpture - £300, a Beswick Hunting group - £580, a Beswick Beatrix Potter Jemima Puddleduck plaque - £750, a Mintons Kensington Gore Art pottery jardinière - £1000, a Zsolnay Pecs vase £650 and a William De Morgan bowl - £780 despite having been smashed into many pieces and re-glued.
Mintons Kensington Gore Art pottery jardiniere sold for £1000.
Results in other sections of the sale included two Omar Ramsden spoons realising £350-£380 each, an Art & Crafts silver bowl by Albert Edward Jones - £1280 despite being damaged, a Jaegar Le Coutre Atmos clock - £370, and a collection of Elvis Presley records - £600.
Albert Edward Jones silver bowl sold for £1280.
To view the results of the sale click here and scroll down.
The next 20th Century, Decorative Arts, Collectables and Modern Design sale will be held on the 30th Of October 2010. All entries and enquiries welcome.