Auction Search
Register a bid
Register your bid online and we will place your bid for you in the auction.
News and Reviews
February 20th 2012, 20th Century Post Sale Report
5 March 2012
As expected the pre sale interest was dominated by a floral painting and pencil sketch of Winston Churchill which, despite lack of provenance and little if anything being known about the artist, sold exceptionally well. Lot 370, a portrait of Winston Churchill by Hailstone, realised £500 and Lot 411, a 1954 portrait of Sir Winston Churchill, by H. Ford, signed Winston Churchill on the reverse, realised £1050 with both lots being purchased by collectors of Winston Churchill memorabilia.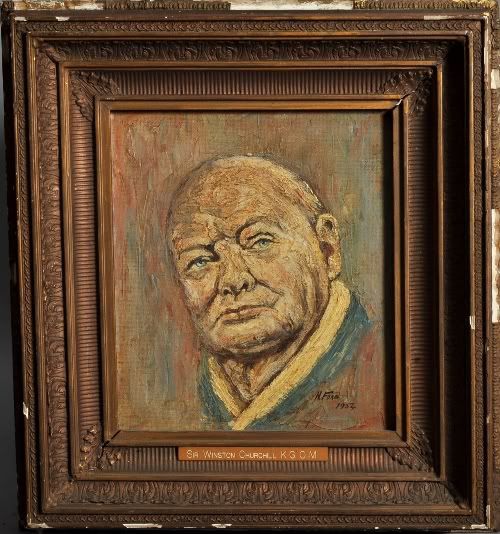 Above: Lot 411, a 1954 portrait of Sir Winston Churchill, by H. Ford, signed Winston Churchill on the reverse, realised £1050
The sale commenced with the toy section where many entries sold well in excess of estimated prices. The prices achieved for the books and ephemera was a clear indication of the interest that is always received for unique items; Lot 240, a collection of Second World War associated press and British official photographs of the Second World War featuring Sir Winston Churchill and other prominent figures sold for £1,250 and Lot 241, a unique collection of original artwork and photography sold for £400.
Metal ware and collectors were seeking the top and most interesting entries Lot 270, two Haganauer patinated bronze African children with base stamps realised £290 and Lot 273, a First World War telescope realised £250.
The prices achieved for the furniture entries as recently experienced had an edge on demand above that of much earlier period furniture; Lot 313 an Arts and Craft Liberty & Co style oak bookcase sold for £880 and lot 316, an Arts and Craft Liberty style oak bookcase sold for £550. A surprise to everyone was an Art Deco ash bentwood framed upholstered armchair, absent of makers' marks, which sold for £550.
In recent sales of 19th Century watercolours and oils we have found some resistance which often makes one hesitant about expected prices for modern paintings but as normal the results speak for themselves. Lot 362, Roberto Matta, The Princess and The Frog, sold for £300, lot 364, David Hockney, an interior scene, £400, lot 373, Panuel Tchelitchew, portrait of an unknown, £980, lot 397, Avern Pease, 1917, portrait of a lady, £620, lot 398, Hector 'Thomas Maybank' Webb, Oojam, the Elephant and the Snooker Cat, £680 and lot 405, Scottie Wilson, flowers and towers sold for £480.
In the glass section there was a 96% sale recorded which at present can be deemed exceptional with many medium priced designers selling well above expectation.
The Ceramics section concluded the sale with a full room still in attendance which resulted in an exceptional sale of the entries; Lot 459, a Royal Doulton Figure, The Mask, sold for £680, lot 515, a Moorcroft bowl, Queen's Choice, £950, lot 533, an American bald eagle sculpture by Giuseppe Tagliariol, £480, lot 544, ten Royal Crown Derby Imari crimp edged plates, £330, lot 548, set of ten Royal Crown Derby Imari two handled soup bowls and stands, £360, lot 574, Clarice Cliff, sandwich set, despite a little damage £520, lot 580, an early Moorcroft vase, again despite a chip to the base, £1280 and lot 582, an early 20c Shelley Queen Ann shaped tea service, £700. In almost every other instance sales recorded were well above estimate.
Our first 20th century sale of the year was extremely successful and we are already underway in taking entries for the next sale, all subject to approval and inspection. We like to remind everyone that we inspect, store and insure through to point without charge.