Auction Search
Register a bid
Register your bid online and we will place your bid for you in the auction.
News and Reviews
Rare Blue John Stone Antiques to go under the hammer at Tring Market Auctions this Month!
2 August 2010
Fine Art Sale
Friday 23rd July 2010
RARE BLUE JOHN STONE ANTIQUES TO GO UNDER THE HAMMER AT TRING MARKET AUCTIONS THIS MONTH!!
On Friday 23rd July, Tring Market Auctions will be hosting another exciting Fine Art Sale not to be missed. From the array of selected items entered into each Fine Art sale held at Tring Market Auctions there is always something that creates a buzz and this month is no exception with a pair of early 19th century Blue John urns on Blue John panelled plinths (13.25ʺ high) up for auction.
BLUE JOHN URNS UP FOR AUCTION - High resolution image available on request
Blue John items are highly sought after by collectors with this pair of urns estimated to realise in excess of £2000!
Blue John stone is a rare semiprecious mineral that can only be found in one location in the world - a hillside near Tam Tor near Castleton, Derbyshire. Within ten years of its discovery, in approximately 1750, there were sixteen mines working the area to supply local firms with the raw material to be fashioned into fireplaces and ornaments such as goblets, urns, bowls, obelisks, clocks, paperweights, chalices and more for the stately homes of England.
Today, there is very little Blue John left to be harvested, and although it is still mined during the winter months in Castleton, only small pieces suitable for jewellery are to be found.
No two pieces of Blue John look identical due to the colour variations of the stone. At best it is purple but very often the predominant colour is either white or yellow with narrow purple veins or bands, or even no purple at all.
Graham Ollerenshaw, Proprietor, of Blue John Cavern, said: 'Blue John is a unique and beautiful form of fluor spar found only at Castleton in Derbyshire. There are only 14 veins of Blue John in total; eight of which are found here at the Blue John Cavern. Blue John antique items are of particular interest due to the rarity of the stone and the dwindling supply of raw materials.'
Other Blue John items included in the Fine Art Sale on 23rd July are two further urns on plinths and one shallow bowl.
Also of note for the upcoming sale is a William & Mary marquetry lace box 11ʺ by 9 ʺ with a guide price of £800/£1000 and in the furniture section a small early 18th century Dutch marquetry bombe chest, 36ʺ wide, 29.5ʺ high, with a guide price of £800/£1000.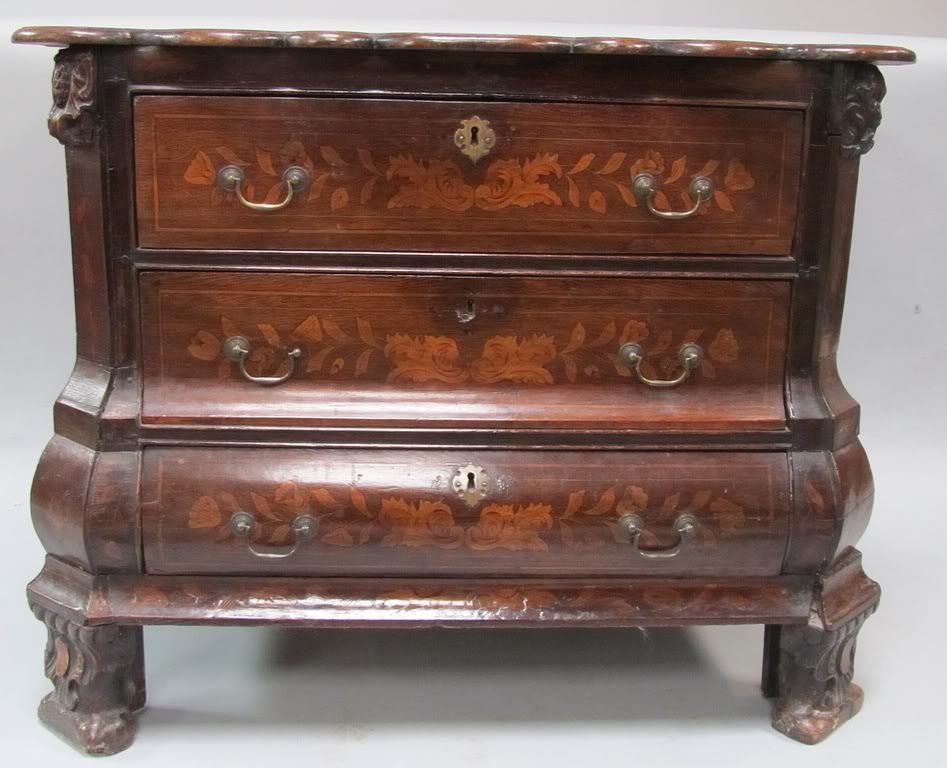 Left: William & Mary marquetry box Right: Dutch marquetry bombe chest - High resolution images available on request
Fine Art Sales are held every two months at Tring Market Auctions with the next being held on 1st October
The next 20th Century, Decorative Arts, Collectables and Modern Design sale will be held on the 30th Of October 2010.
All entries and enquiries welcome!