Auction Search
Register a bid
Register your bid online and we will place your bid for you in the auction.
News and Reviews
July 2nd, 20th Century Decorative Art, Collectibles and Design Sale.
2 July 2011
There seemed to be a general atmosphere of caution as the auction began today but with large numbers of pre-sale interest in most categories it wasn't long before the white cards were raised and great sale percentages reached.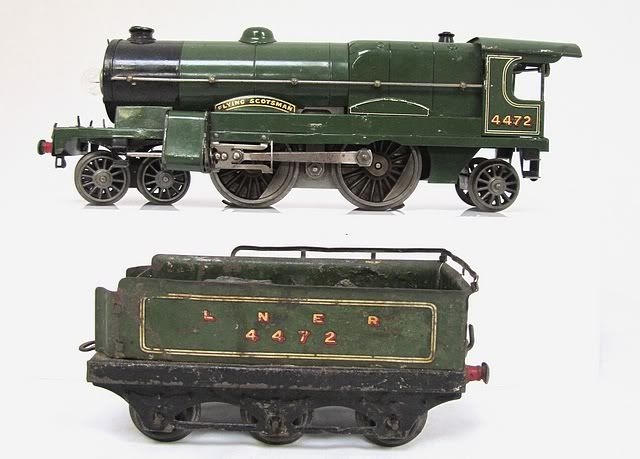 Above: Hornby O Gauge Flying Scotsman locomotive sold for £150
We had a nice selection of toys entered into the sale; a Hornby O Gauge Flying Scotsman locomotive with tender sold for £150, as did a Hornby O Gauge clockwork model railway collection which reached the same price; a Meccano outfit realised £420; and a Dinky Supertoy Foden trunk and a Dinky Supertoy wagon sold for £130, and £180 respectively.
Above Left: Dinky Supertoy Foden Truck, £130 Above Right: Dinky Supertoy Wagon, £180
All the other entries were selling beyond estimate, with possibly the surprise of the sale being a Schiko tinplate model of a Dodge saloon car which realised £270.
There was a selection of both assayed and plated goods in the silver section, all of which sold well; a pretty Edwardian silver enamel cigarette case sold for £280 and a Samson Mordan & Co novelty inkwell sold for £340.
We had a nice selection of entries in the collectables section; a Schucco teddybear lipstick holder sold for £160, a 20th Century Sanderson woodcut printers' block made £220, a Renault & Co bottle of cognac sold for £430 and probably one of the best finds was a Lange & Sohne WWII Luftwaffe pilots' watch movement which realised an incredible £2050.
Local bronze sculptor, Charles Egerton Browne, was represented by his Whitbread figure of a dray horse which realised £820.
We had some interesting items of furniture today; an early 20th Century Arts & Craft influenced cabinet on stand, with designer and maker unknown, sold for £2400 and a Finmar Alvo Aalto circular dining table, requiring some attention, reached £550. The walnut furniture of the 1930's also attracted interest with a satin walnut veneered bedroom suite, with designer and maker unknown, selling for £550.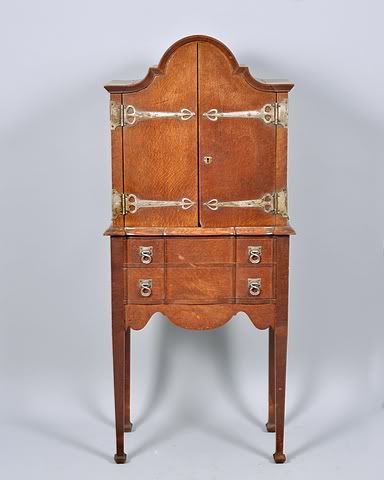 Above: Early 20th Century Arts & Crafts Influenced Cabinet on Stand, £2400
We had encouraging sales in the pictures and prints section; a Jock Brown black and white print resented to John Lennon with John Lennon's signature and cartoon realised £850 and an unusual collection of three hundred painted Whitbread Inn signs sold for £550. A local artist again met fair demand with a Marion Broom painting of Magnolia which sold for £300.
There was lots of interest in the glass and ceramics section. Of the glass items, a Whitefriars Geoffrey Baxters 'waisted' vase sold for £340, a Lalique 'Bulbes' dish made £270, and there was a nice surprise for the vendor who owned most of the paperweights entered - his Whitefriars 1980 Christmas Bell sold for £410! Also in this section, an American Art Deco glass and silver overlaid cocktail shaker realised £520 and a miniature Galle cameo vase £320. To crown the glass section, a Burgun Schverer & Cie perfume burner realised an impressive £3100.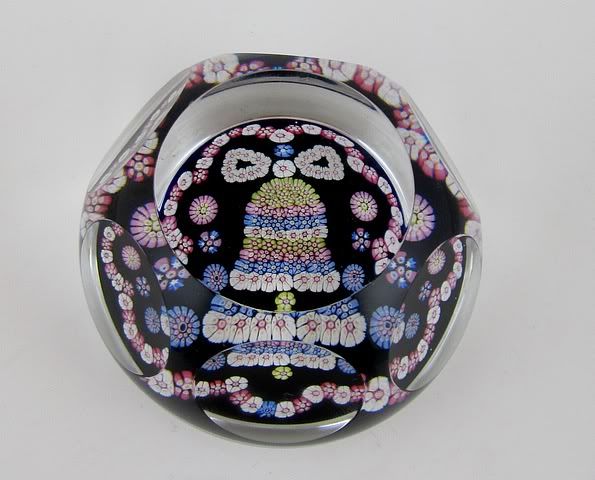 Above: Whitefriars 1980 Christmas Bell, £410
The ceramics attracted greater interest than in previous months with a Beswick girls' pony selling for £380, a Beswick pair of grouse for £200 and in an entry of Elaine Peto studio pottery, a model of a Longhorn bull realised £300.
We had some nice Clarice Cliff entries including a pair of Crocus pattern vases which reached £550, a Spring Crocus teaset sold for £450 and a Fantasque Bizarre sandwich set realised £1000.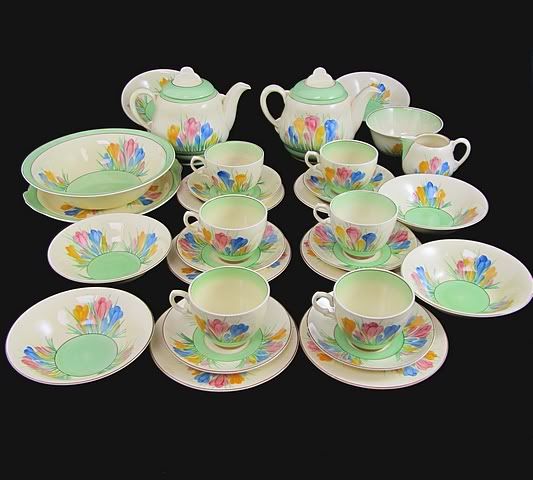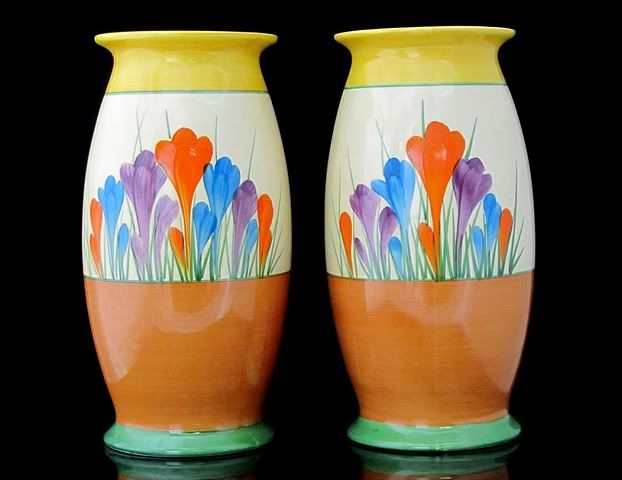 Above Left: Clarice Cliff Crocus Teaset, £450 Above Right: Clarice Cliff pattern vases, £550
The Carltonware looked at little brighter with a pair of 1920's jars and covers which sold for £340 and a 1930's Mandarins Chatting ginger jar with cover and stand realising £500.
Elsewhere a Pilkingtons Royal Lancastrian Richard Joyce lustre vase fetched £700 and a Moorcroft MacIntyre miniature vase £1150. An American Indian Polychrome seed jar by Nampeyo aroused a fair amount of interest at £1600. There was a little doubt as to whether or not this was infact by Nampeyo or one of the later family. A Meissen figure modelled on aN 18c gentleman sold for £300 and finally a Doulton Lambeth George Tinworth cherub candle holder reached £310.
All in all, a very positive sale all round.