Auction Search
Register a bid
Register your bid online and we will place your bid for you in the auction.
News and Reviews
October 30th 20th Century Sale Report
30 October 2010
The last 20th Century Sale of the year, held on 30th October, was again an overwhelming success. It was particularly pleasing to see a large number of younger purchasers in the crowd with an eye for Art Deco items - a great reflection of the range of interest in this period.
As expected, lot 28, the Omar Ramsden centrepiece bowl attracted huge interest eventually selling at a hammer price of £10,800 exclusive of buyers' premium.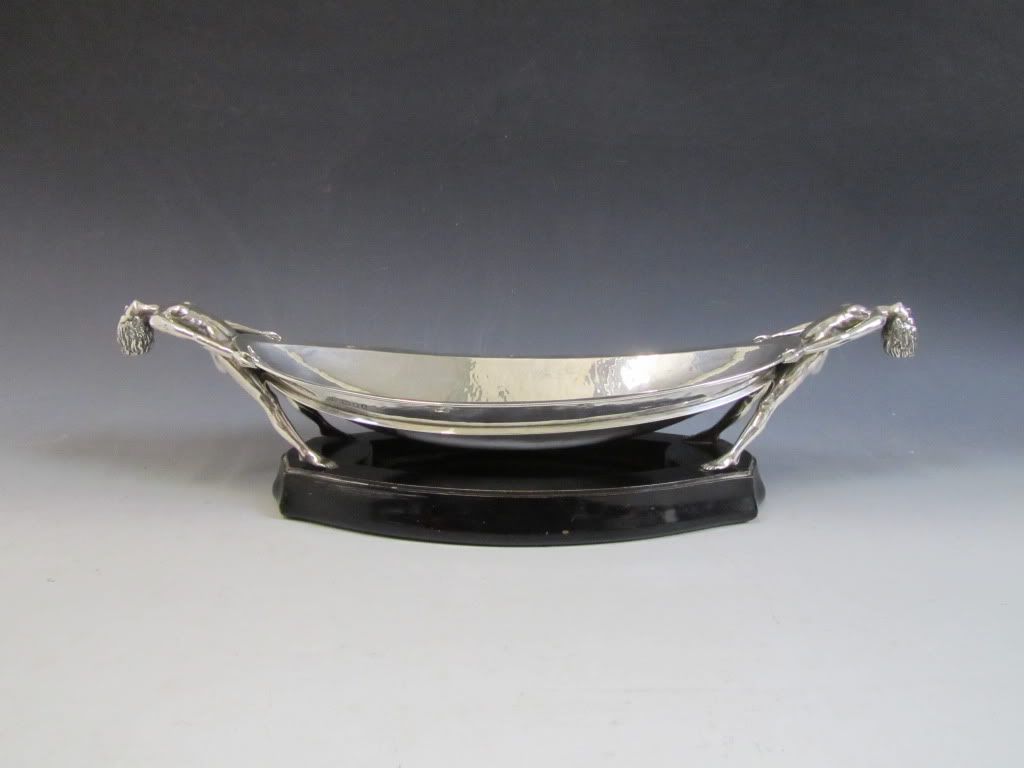 Above left: Omar Ramsden centrepiece bowl, £10,800 Above right: Dorothea Sharp painting, £8,500
In the picture section, the wonderful Dorothea Sharp oil painting Hills Beyond Cassio realised £8,500 the proceeds of which were generously gifted to local charity, the Iain Rennie Hospice.
There was unexpected competition for lot 358, a set of ten black and white etchings by Stanley Anderson depicting seasonal early 20th century agricultural work and country pursuits, all approximately 7" x 6", which realised £3,100.
Two paintings by the Indian artist, Sunil Das, both of horses in motion, realised £1,400 each.
It was encouraging to see a Claude Munncaster oil painting of a view in the Orkneys selling at £700.
The demand for interesting decorative items continued throughout the sale and in the furniture section a Robert Thompson Mouseman oak hanging cupboard sold at £800.
Amongst the metalware, lot 288, an Officiano Alessi Brandtte Marianne Brandt designed infuser in silver plate but of limited edition sold for £920.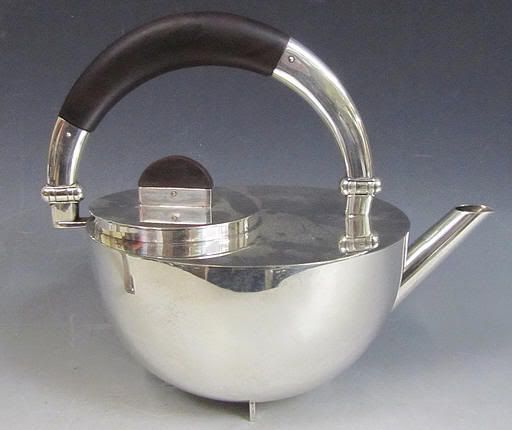 Lot 288, Officiano Alessi Brandtte Marianne Brandt infuser, £920
To everyones's surprise, a George Jensen silver necklet with jade jewels realised £1,400!
Throughout the sale the more important and collectable items really pushed on but it was just as encouraging to see some of the less important items attracting attention too.
Please click here for Friday 30th October 20th Century Sale Results
The next 20th Century Sale is coming up in the New Year on 26th February 2011.
We welcome your enquiries and sale entries.